Gone are the days of poured concrete pool decks with no character.
As people are increasingly investing in their outdoor property in place of a cottage or taking frequent vacations, "poolscaping" has become a common service for landscape companies.
After all, if you're going to spend most of your leisure time in it, your backyard should not look like a community pool (even though you might have the whole neighbourhood flocking to it)!
Here are a few things to keep in mind when dreaming up your ideal pool landscaping:
Most Natural Landscapes are not Flat
Photo credit to
ICRock
unde cc2.0
Varying the elevation around your pool- using raised decks, retaining walls to give height to plating areas, or multi-level patios can immediately make your space seem more natural and less abrupt.
Using raised planting beds around the corners can give you a huge boost in privacy, and help to create the feel of a natural oasis.
Include Your Pool in the Design Theme of the Rest of Your Outdoor Space
Many homes that are lucky enough to have their own little swimming hole make the mistake of separating it from their outdoor living areas. As mentioned above, integrating planting beds and seating surfaces nearby will create a more natural and relaxing retreat. Utilizing the same paving materials around the pool as well as in your patios or walkways integrates it as a beautiful landscape feature, and can really prevent a disjointed look.
Decorate with Planters & Outdoor Artwork
Make your space uniquely yours by incorporating things that you love, and that you're able to switch up easily. Whether or not you've incorporated permanent planting areas around your pool, mobile planters can allow you to quickly change the look of the space, while adding layer of natural beauty.
With taller shrubs in planters, you can even adjust the level of privacy- which might come in useful in the case that your neighbour is having a big backyard barbeque, and you want to go for a swim without becoming the centre of attention.
Statues, bubbling rock water features, or other outdoor sculptures can add interest to your space as well.
Finishing Touches
Beyond landscaping, investing in a great looking pool cover- something that is attractively stored when not in used (read: doesn't look like a roll of bubble wrap) and other outdoor storage for pool games can maintain the integrity of a relaxing and elegant atmosphere of your landscape.
Pool Landscaping Ideas
Light natural stone with wood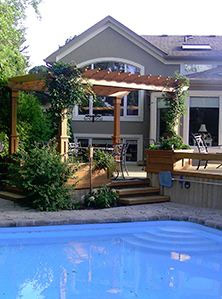 Here are a few of our favourite designs & material combinations:
The wooden pergola not only compliments the almost-silver natural stone surface surrounding this pool, but it also creates a frame for foliage to climb and enhances privacy. There is seating under the pergola right beside the pool, in addition to a raised deck that creates depth and interest in the property.
The raised brick planters and dense shrubbery create a refuge from the outside world in this backyard. The sand coloured interlocking patio surface compliments the turquoise of the water nicely, and would be easily carried on throughout the property's seating and dining areas
Integrated pool & outdoor dining room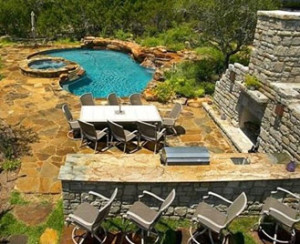 Photo credit to
stonescape
under cc2.0
This luxurious design includes the pool in the overall outdoor living space elegantly. Using a variety of natural materials, and building some height around the outside of the pool with stones and foliage has given this an extremely natural feel. It's like having a more refined picnic on a beach!
Want to discuss your landscaping ideas, or schedule a site visit to hear our recommendations? Contact us today, & take the first step towards creating your own natural oasis.