Side yards are one of the most difficult areas in a home landscape to deal with.
Most suburban Oakville homes have narrow side yards that leave little room for activity or ornamental landscaping. Though you probably don't spend much time there, your side yard is often visible from the road or front yard; you don't want it to be cluttered or unsightly. Also, you usually need access through the side yard to get from the front to the back of the house.
In this before and after photo from one of our recent projects, a new walkway has nicely solved some of the typical side yard issues.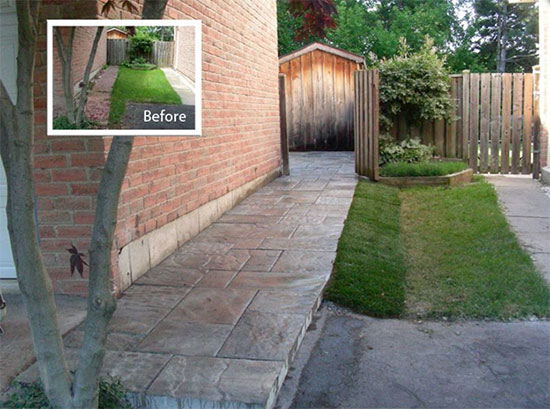 Before
The "before" photo shows an old unit paver walkway that had become weedy and unsightly. The narrow landscape strip between the walk and the house had also become weedy. The paver walkway and planting strip both need some regular maintenance, probably more than most people like to invest in a little-used part of their yard.
After
In the "after" photo, the old walkway has been replaced with a new manufactured stone interlocking walkway.
The material has been stamped and coloured to look like real stone, but its regular shape and width allows it to be installed more easily. The larger paver size leads to fewer joints- leaving less room for any plant life to establish.
There are almost unlimited options with colour additives and stamped patterns for pavers, and they can be made to work with any style of house and landscape. Note how the pattern on the walk continues as it wraps around the house and becomes the backyard patio, connecting the spaces and creating interest.
The new walkway also eliminates the narrow planting strip next to the house. For front and back yards, it is usually nice to have some ornamental planting between the house and paved areas. For a very narrow side yard, landscape planting is a lower priority.
How to Complete a Similar Project on a Lower Budget
If the landscape budget is limited, there is room to bring the cost of the project down by selecting a lower cost paver. When installed properly, a low cost product should offer the same results.
Future projects for this side yard could include the addition of separation from the next door neighbour's yard. Some like the feeling of privacy and ownership that comes from an ornamental fence marking the edge of their yard and property. A narrow hedge could also be used, though in this narrow space, it would require regular pruning.
Low Maintenance Landscaping Oakville
Thoughtful design solutions can improve the look of your home landscaping while reducing maintenance and making life a little bit easier. Even a simple side yard can be made to look like it is an integral part of your overall landscape. If you have an overlooked, little-used area in your landscape, there is probably a creative way to make it more functional and attractive.