Landscapers Burlington Trusts to Create Personal Getaways
At Dutchman's we work with your front, side and back yard space to produce the garden refuge of your dreams. Time and time again, our customers tell us how happy they are with our products, services and the designs our landscapers create.
Want to sell your home for more than the two down the street? Invest in your outdoor space and watch the value of your home skyrocket with landscaping. Burlington's homes are beautiful – make yours stand out.
To see for yourself how our gardens compare, visit our Inspiration Gallery.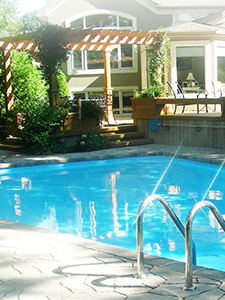 Residential Landscaping that Transforms Your Yard into an Outdoor Oasis
Your week is full. Working late hours, busing the kids around- you need a place to retreat to at the end of the day.
Our "Dutch Efficiency" can give you the sanctuary you dream of fast.
Dutchman's residential landscaping works quickly and efficiently to give you the outdoor spaces of your dreams. We start and complete our jobs in as little time as possible without sacrificing quality- because we only take on one project at a time.
So when the weekend rolls around, you can look forward to coming home to a calming and beautiful outdoor space – your own private cottage away from the hectic world outside.
Tired of the Mess Contractors Leave? We Complete a Full Clean Up Every Day.
At Dutchman's we furnish all the equipment for our residential landscaping projects. What does that mean for you? Less hassle and less mess.
We never rely on another service to haul materials to and from the site. Never will you see a dropped bin on your front yard. Each day we clean your road. After project completion, we ensure your home is left spic and span.
Guarantees on Residential Landscaping Projects
Have confidence in choosing us for your project. Our workmanship and hardscaping comes backed with a 2-year warranty. All trees and shrubs purchased come with a 1-year warranty.
Sign Up Today for a FREE Site Meeting!
Interested in just how your yard can be transformed into a garden oasis? Contact us today and schedule a site meeting.
We are available to address any questions or concerns you might have. Or visit our Landscaping Service page to learn more about the services we provide.