If you are lucky enough to have a pool in your yard, be sure to create strong design connections with the rest of your landscape. Pool areas should not feel remote or removed from the house. There are a number of ways to tie together the different zones or parts of your yard. They can still function as individual spaces, but when viewed as a whole, they should form a cohesive, well designed landscape.
The "before" photo shows a nice pool, patio, lawn and house, but the connection between them is weak. In the "after" photo, the pool and patio area is more functional and enjoyable with a new transition to the yard space between the pool and the house.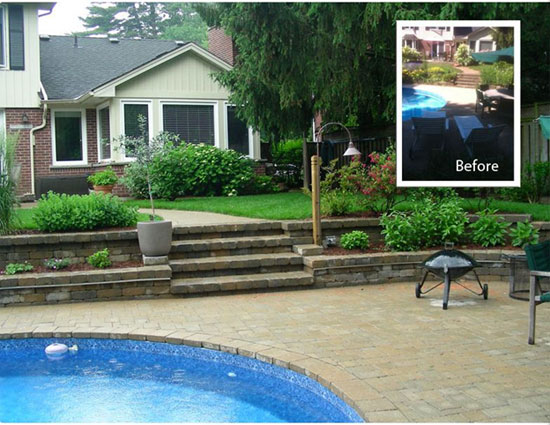 Carry Materials Through the Landscape
Construction of new steps and a couple of low retaining walls serves to both connect and separate the pool patio from the upper lawn area. The use of interlocking concrete units for the steps and walls visually unites the patio with the walkway above. Repeated use of the same or similar materials is an effective way to make these separate spaces part of a single design.
Multiple Functions From One Feature
The two short retaining walls in the "after" photo create a mid-level planting bed. This is similar to the original design, but the new wall next to the pool patio is much more useful. It's just the right height for a seat wall. When the owners have a pool party, it becomes an extra sitting area or a convenient spot to place a plate of food or a drink. Getting multiple uses out of one design feature is always a good idea. These walls enclose the pool area, provide a planting bed and work well as a place to sit.
Benefits of Using Interlocking Brick Around the Pool
There are a number of reasons why interlocking brick, and coping is the ideal material for a pool deck, beyond their attractive appearance.
Having an interlocking surface provides much better natural drainage, when compared to a standard poured concrete surface, meaning there won't be an overflow of runoff to the surrounding lawn. Often poured concrete pool decks have an area that surrounds them where grass appears sparse or muddy- interlocking eliminates this issue.
Interlocking brick also provides a non-slip surface, and is very straightforward to seamlessly repair if an underground fix is needed.
Design Options for Steps
The interlocking unit steps tie in nicely with the patio and the wall. These sturdy and attractive steps will last for many years. The linear design of the steps is perfect for this space. They form a clean edge for the patio and line up with the retaining wall. Interlocking steps can also be constructed with curves if a more informal appearance is desired. An example of curved unit steps is shown in this photo.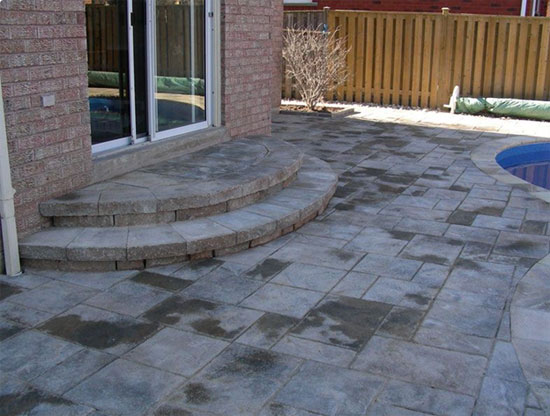 Here the curved lines create interest and echo the curved edge of the pool. They are a nice contrast to the house and patio in a tight space where there is little room for other features.
The "after" photo with retaining walls, steps and a pool patio is a stylish, contemporary design. By simply updating an old, overgrown feature in the landscape, this pool area has become much more useful and attractive. It now fits in with the overall landscape and will get continued use while only needing limited maintenance.
If you're interested in updating your pool landscaping in Oakville or Burlington, contact us today for a free consultation.