Sometimes backyards need a design makeover. Just as it's nice to repaint a room or redecorate indoors, renovating a landscape can give it fresh life while making it more useful and attractive. The landscape shown here is a perfect example of how to successfully update a backyard pool area.
The pool itself in this yard is fine, but you can see in the "before" photo the area around the pool looks drab, outdated and unwelcoming.
Choose Your Pool Deck Surface Carefully
Wood decking is usually not the best choice around a pool. It needs regular maintenance to survive the cold Oakville winters. Splinters can also be a concern for bare feet close to the pool. The wood timber walls, steps and planters shown have also reached the end of their lifespan.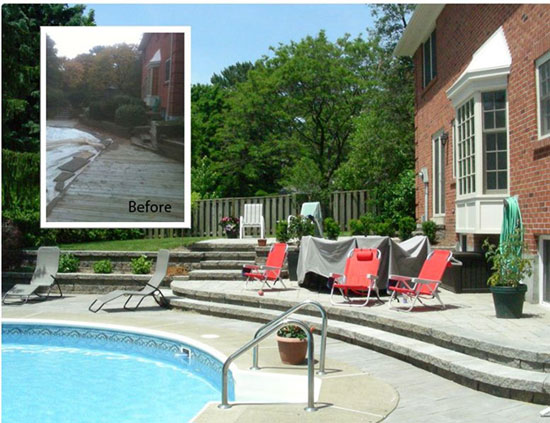 The Best Paving for Pools
The "after" photo shows a pool landscape that has been improved several ways. Interlocking concrete units are a good choice for pool area paving, walls and steps. They are attractive, virtually indestructible and don't need much maintenance. They even help facilitate more natural drainage than the commonly used option of poured concrete.
Concrete units come in many colours and shapes to match the style of your home and landscape. Lighter colours tend to reflect heat while dark pavers warm up quickly on sunny days.
Creating Usable Space
The spaces in the new design work much better for a pool area patio. There is enough room to walk around the pool or to lie in a lounge chair. The two steps up to the mid-level patio also work as places to casually sit, especially during pool parties or even if there a just a few kids around.
The mid-level patio is now a generously sized, useful space. The steps provide a feeling of separation from the pool, but it is still close enough to be part of the action. With a table, lounge chairs and grill, the adults can hang out there while the kids are in and around the pool.
The upper level patio, a few steps higher, has become a pleasant semi-private space. It also has a good view of the pool, but is a little further removed. Parents can watch the kids without getting splashed or teens can get away from the younger kids and still keep an eye on them.
Install Your Project in Phases to Control The Budget
This is the kind of project that can easily be constructed in phases, adapting the schedule to your budget. The patios could be built one at a time to turn this into a three to five year process, spreading out your cost over time.
The most successful landscapes for gathering and hanging out have a variety of options for sitting, talking and relaxing. This renovated, low maintenance pool area landscape is an excellent example of how to achieve that.
If you're interested in what a similar project might cost for your property, contact us for a consultation.