Suburban homes in Burlington and Oakville are often close together. The spaces between them are narrow and filled with heating and air conditioning units, downspouts, utility meters and more. These skinny side yards can quickly become wet, messy and unsightly. Though it is important to have an outdoor connection from the front to the back of your house, making it a low maintenance space is usually top priority.
The "before" photo shows some of these typical side yard problems. There is lawn planted, but who wants to mow around all those obstacles? The splash blocks at the bottom of the downspouts are sending all of the roof water onto this narrow strip of yard. After big rains and snowmelt, it is likely to be a muddy mess.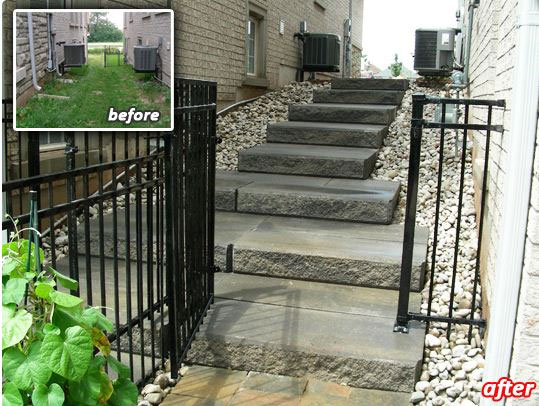 Replacing Lawn with Wide Steps
The "after" photo shows that this difficult space can actually become more functional, better looking and easier to maintain. The large coloured concrete steps are the basis of this solution. They are easy to navigate and replace much of the muddy lawn area. If they are installed on a good foundation and have just a slight slope for drainage, these steps will last for decades with almost no maintenance.
Taking Drainage Underground
Adding more surface water to small, little-used spaces makes them even more difficult to manage. In the landscape shown, the downspouts have now been connected to underground drain pipes. The underground pipes can connect to a larger storm drainage system or let the water out away from the house where it can percolate into planting beds. This is a smart solution for wet areas close to your house.
Adding Ornamental Stone Mulch
The final part of the design solution for this problem area is ornamental stone mulch placed between the steps and the sides of each house. No more mowing! A quick pass with a leaf blower a couple of times a year is the only maintenance needed. If the white stone colour is not to your liking, there are several other colour options for ornamental rocks and stone mulch.
Choosing Options to Fit Your Budget
Shredded bark mulch is an option for this space that would lessen the cost. While it would require a little more maintenance, it generally works as well as stone mulch for a lawn replacement. Future additions to the space might include some dwarf or low growing shrubs. Again, that increases maintenance, but plant material would soften the look of all the hardscape materials.
These basic changes have dramatically transformed this space. It is easy to neglect the rarely used problem areas in a yard, but sometimes a simple design can lessen yard work requirements and increase the enjoyment of your home landscape.
If you're interested in increasing your curb appeal with low maintenance landscaping, contact us today for a free consultation.