Always Keeping Safety in Mind
Safety issues are one of the most important considerations to our customers. We use high quality, non-slip surfaces to ensure your design does not compromise safety.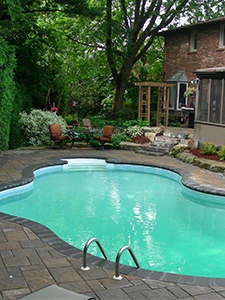 The Pool Landscaping Company, Specializing in Creating Elegant & Fun Settings
Does your swimming pool look more like a community centre than a fun, natural retreat?
Let us give you a softer, more natural look. You'll enjoying relaxing by the side of your new poolscape as much as your kids will love swimming in it.
Changing a Cold Concrete Setting to a Lush Backdrop
You spend a lot of time at home. You'd like to have a backyard that's pleasing to the senses as well as functional. What you don't want is an industrial eyesore to greet you each time you step out your back door.
Our landscape designers can transform any poolscape into a scene that is vibrant and lush as well as relaxing.
Respect for Your Space and Home
The last thing you want to see after a long day of work is a backyard that looks as if a bomb went off.
Our crew makes sure your home is left clean of all equipment and debris at the end of the day. In the short time we work on your project, you'll hardly know we're there.
Contact Us Today For a FREE Quote
Want to learn more about our pool landscaping services? Request a quote by contacting us today. We are available to address any questions or concerns you might have.
Or view our inspiration gallery to browse our recent projects.