Adding Beauty to Your Property Year Round
You don't have to settle for a disappointing garden just because temperatures drop to the negative digits. Our crew can let you know which trees will enhance your property whether it's spring, summer, fall or winter.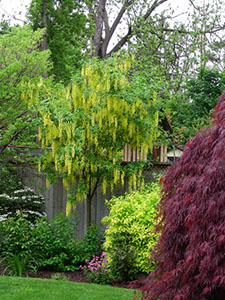 Stately Local Trees-Landscaping Projects That Remain Beautiful Year Round
Want a landscaped yard that is easy to maintain, yet flourishes all year long?
Trees create a beautiful focal point, and by using the finest regional varieties, your front, side and backyards thrive throughout the changing seasons.
Ontario's Most Beautiful Trees
Throughout our over 35 years in the industry, we've developed an exceptional knowledge about what works best for Halton region's climate.
We can guide you through selecting trees that offer the qualities you need to enhance your outdoor living.
Why Choose Local
Locally grown regional species of trees are better adapted to the southern Ontario area. They last longer and thrive in our Canadian climate.
Get a FREE Quote
If you'd like to learn more, visit our low maintenance shrubs and trees , landscaping services , or  plants for landscaping pages. Or contact us today to get a quote.