A pool in your backyard automatically becomes the focal point and center of activity for your home landscape. That is as it should be. Pools are fun for families and are great places to have parties or a casual get together with friends. You will get the most enjoyment and use out of your pool if it has comfortable places to sit, eat, sunbathe or do some outdoor cooking. Make sure that the design of your pool works with all of the related activities that will be happening in your yard.
The "before" photos you see here show a nice backyard pool. It's a good size and has an interesting curvilinear shape. The space around it is lacking, though. The pool has a plain concrete border and nothing that relates to the rest of the yard. The area surrounding the pool does not offer consistency.
The "after" photos show a more dynamic and interesting pool landscape. Let's look at some of the features in this new design.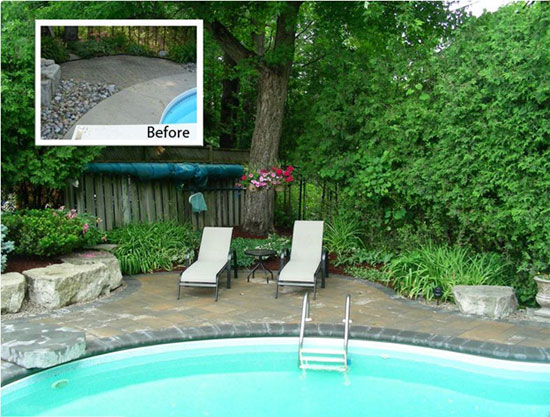 Pool Border
The plain concrete has been replaced with coloured concrete interlocking pavers. Instead of a uniform width, the border now flows in and out according to what is happening near the pool. Where space is limited, the paved border is narrow. Where there is room for lounge chairs, tables and places to hang out, the pool patio flares out to make room for these activities. Visually, this border takes a cue from the curved shapes of the pool and becomes much less static.
The brown and gray tones of the interlocking pavers complement the colours of the house and the large boulders in the landscape. The pool, adjacent areas and the house now look like they were all designed to fit together.
Pool Planting
You can see in one of the "after" photos that new shrubs have been added near the pool. It is important to have plant material in your pool landscape. Flowering plants can give a lively, tropical feel, transporting you far away from Oakville! Plants also help to soften the extent of hard, paved surfaces that are naturally found around pools.
Pool Landscape Design Options
Backyard pools are a big ticket item for your home. Many homeowners will need to install the surrounding landscape in phases.
There are ways to lessen the cost of the project shown- a good landscape contractor will always work with you to select the right plants and construction materials for your budget, as there are so many options available at a range of price points.
Want to Elevate Your Pool Landscape? Try This One Thing
Outdoor lighting would be a worthwhile future phase project for this landscape. Low level LED lighting extends the hours of enjoyment for your landscape while giving it a new look and feel.
If you have a backyard pool, it can be challenging you take on the landscaping yourself. Consult with a landscape designer to make sure your pool area landscape is reaching its full potential.