The Front Yard that Stays Attractive All Year Round
Low maintenance landscaping means quite simply a beautiful property that requires little effort to maintain.
Your carefully chosen plants remain attractive through the change of seasons, without requiring excessive pruning or care.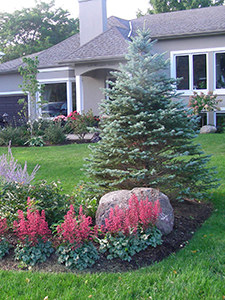 Get a Gorgeous Low-Maintenance Front Yard
Want to attract the gaze of neighbors with a beautifully landscaped front yard but afraid of the work and cost involved?
A low maintenance front yard might just be what you're looking for.
Beautiful Landscapes That Don't Require a Maintenance Crew
You can have a property that is a source of relaxation- not a source of labour.
At Dutchman's Landscaping, we aim to create a low maintenance front yard that is both attractive and easy to maintain.
Our landscape designers have a thorough knowledge of which plant materials flourish in your region. We factor in soil conditions, elevation, temperature variances when work with you to create your design.
Receive Compliments Year Long
Years after project completion, you'll still receive praise from friends, family, neighbors and passersby.
Why is that? Because low maintenance front yards are never dull or static. They are full of life and can be suited to reflect your own personal character.
Love to see butterflies, ladybugs and birds flock to your bushes? Because our landscape designers choose locally grown plants, well adapted to your area, wildlife will be naturally attracted to your garden.
Any Style of Your Choosing
Whether you prefer cottage, French, or a Japanese zen style garden, low maintenance landscaping can be used to reflect almost any taste.
Who Wouldn't Want a Garden That Requires Less Work?
You work hard all week. When the weekend rolls around, you want to enjoy the pleasure of your own personal garden sanctuary, not spend those precious hours pruning and weeding.
Creating a low maintenance garden is not about eliminating all work. It is about choosing the right amount appropriate for you. Our landscape designers consult with you to come up with the kind of garden best suited for your lifestyle.
Contact Us Today to Request a Quote
Request a quote today and schedule a site meeting to learn how you can get the outdoor space of your dreams.
Or view our inspirational gallery to see the beauty of our low maintenance landscaping.