Fast Service that Doesn't Sacrifice Quality
When you hire Dutchman's Landscaping, you don't have to wait long for your landscaping project to start. Our contractors work quickly and efficiently but never sacrifice quality.
Why is that? Because at Dutchman's Landscaping our contractors only work on one project at a time. Your lawn gets the attention it deserves.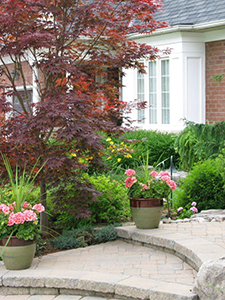 Sit Back, Relax and Enjoy the Beauty That Low Maintenance Landscaping Provides
You work hard all week. You want to spend your weekends enjoying a game of golf, playing with the kids, or just relaxing on the patio with a drink. The last thing you feel like doing is getting on all fours, pulling weeds or pruning shrubs.
Dutchman's low maintenance landscaping allows you to enjoy the pleasure of a beautifully landscaped lawn without all the tiresome work involved.
Low Maintenance Gardening Without the Expense of a Costly Service
At Dutchman's Landscaping we work with your lawn and your region to provide the highest quality garden that requires the least amount of maintenance.
You don't want to spend all Sunday gardening. But you certainly don't want to pay for a high priced landscaping project that requires an expensive contractor to maintain it. Low maintenance landscaping offers the only solution to a quality outdoor space at a reasonable price.
Low Maintenance Landscaping- Minimize Your Work While Maximizing Your Results
Our contractors provide you with geographic knowledge of what works well in your region. They take into consideration all factors like soil condition, temperature variances and elevation to give you the best options available.
They also work to offer you the best garden that suits your needs. It's not about giving you a work-free lawn. They help you choose the type and amount of maintenance that works for you and produces the kind of quality garden you're looking for.
View our inspirational gallery and see for yourself the beauty of our low maintenance gardening.
Low Maintenance Gardening Equals a Greener Lawn
Our low maintenance plant alternatives and xeriscaping options eliminate the need for supplemental irrigation. You'll rest easy knowing that your garden is both beautiful and environmental friendly.
Our Customers Can't Believe the Ease and Beauty of Our Low Maintenance Gardening
Our track record says it all. See for yourself how happy our clients are with our service .
Contact Us Today!
We are available to answer any questions you might have. Request a quote today or view our inspirational gallery to see the beauty of our low maintenance landscaping.