In as Little As a Day, Transform Your Backyard into a Getaway
Since we always take on only a single project at a time, your new pond, waterfall, or stream can be complete in as little as a day. Even if your project takes longer, we complete a thorough clean up at the end of each day, ensuring you'll return home to an orderly property.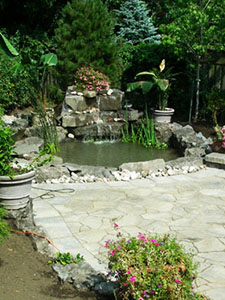 Backyard Water Features: Relax to the Refreshing Sound of Trickling Water
Make your landscape unpredictable by including a gorgeous natural looking water feature, and see your space transform into a relaxing retreat.
Choose the feature that best suits your personal taste, from natural cascading waterfalls, bubbling rocks, organic looking ponds, riverbeds, and streams.
Natural Beauty That Does the Heart Good Just to Look at
Using beautiful natural materials, we can give you the relaxation experience of a waterfront cottage without the stressful commute.
Not only will your feature be gorgeous to look at, but the serene sounds will help drown out the street-noise and allow you to decompress.
Scale the Beauty of Nature to Fit In Your Backyard
Regardless of the size of your outdoor space, there is a natural looking way to incorporate water. Work with our team to create a design that will make you want to linger over a cup of coffee in your backyard, or invite over your friends to show it off.
Get a Free Quote & Start Exploring Your Options
Start making the most of your outdoor space today. Contact us to receive a quote, or browse our gallery to get inspiration for your own property.