Connect With Nature Without Ever Leaving Your Backyard
Invest in a quality backyard garden and you'll never feel the need to escape to the cottage on the weekends. You'll experience the same calm and peace as you visiting the country.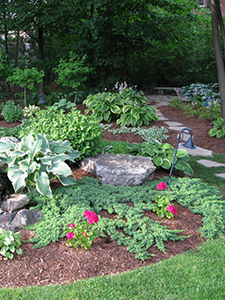 Bring Serenity to Your Outdoor Space with Rock Gardens
For centuries, the Japanese have created rock gardens to help achieve inner peace.
The arrangement of the stones and the raking of gravel provide a sense of tranquility in an otherwise hectic world.
You can achieve the same serenity in your outdoor space with our services.
Your Own Personal Refuge
Your garden is your shrine, your own personal retreat. You go there to escape the noise and chaos of your every day life.
Adding a rock garden is a unique way to bring natural beauty to your property.
The Perfect Solution for Drainage Issues
Well-constructed rock gardens are more than just pleasing to the eye and the senses. They provide natural drainage areas that help to prevent flooding as well.
Contact Us Today For a FREE Quote
Contact us today for a free quote. Start dreaming of your ideal outdoor space.