Watch the Value of Your Home Skyrocket
Beautifully built retaining walls do more than just add aesthetic value; they offer practical benefits as well. Retaining walls can help:
Keep soil in place
Prevent erosion
Prevent flooding
They are also remarkably easy to maintain when constructed well.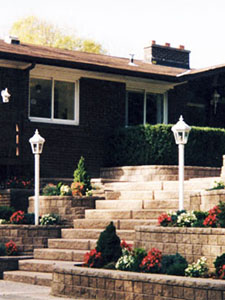 Retaining Walls Bring Elegance & Functionality to Sloping Yards
Do you feel your landscape options are limited due to your uneven property?
Retaining walls may be the answer. They can help transform grade issues into interesting and usable spaces.
We can provide you with unique and eye-catching designs.
The Addition that Suits Any Style
Can't decide on the type of retaining walls you want? Dutchman's Landscaping provides you with elegant cement and stone options to suit every taste.
Have You Had Experience with a Retaining Wall Collapsing?
Poorly built designs can be a nightmare for homeowners. When not constructed properly, they can fail.
You don't have to be worried about this when you work with Dutchman's.
Our designs have proper drainage that withstand harsh weather conditions and last for years.
Guaranteed for Two Years
You can rest easy knowing your investment comes accompanied with a 2-year warranty to protect you.
Contact Us Today For a FREE Quote
Don't delay fixing your grade issue any longer. Contact us today to receive a quote. We are available to address any questions or concerns you might have.
Or view our inspiration gallery to see more of the types of retaining walls we provide.