Choose the Look that's Right For You
Our Interlocking walkways come in an assortment of colors, shapes and patterns. The sky's the limit when it comes to design possibilities! You'll be able to create the look that matches your style and taste.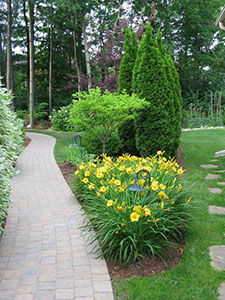 Elegantly Welcome Visitors to Your Property with Interlocking Walkways
Include an interlocking walkway in your project and watch as neighbors do a double take as they pass by.
Creating an eye-catching property is all in the details. This small touch can make the different between a mediocre and a magnificent landscape.
Watch the Value of Your Home Grow
Interlocking walkways won't cost you an arm and a leg over the years. They never crack, and require little maintenance. And they increase your home's value significantly!
Rock Solid Workmanship
Our crew knows how to construct interlocking walkways that withstand the test of time.
Our team first installs a substantial base of material to support pavers and prevent any shifting or settling. This means your walkway will always remain level.
Plus, interlocking walkways require little upkeep. The joints are filled with polymeric sand to prevent troublesome weeds from sprouting, so you won't have to spend time on your hands and knees pulling them.
Contact Us Today For a FREE Quote
Want to learn how you can change the look of your property? Contact us today to receive a quote. We are available to address any questions or concerns you might have.
Or view our inspiration gallery to see the beauty of our front yard landscaping.