A Worthwhile Investment
Interlocking patios require minimal upkeep so costs remain low over the years.
And your newly renovated backyard will increase your home value significantly. Once you decide to sell, you'll make back the money you've invested and then some.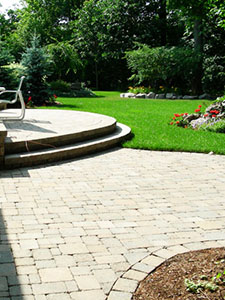 Get Excited for Your Next BBQ on Your New Interlocking Patio
Friends and family will fawn over your backyard once you've invested in an interlocking patio.
More than just aesthetically pleasing, these patios withstand the changing seasons year after year and make practical additions to any backyard.
Choose From a Variety of Shapes, Colors and Patterns
Interlocking patios please just about any taste and style. Dutchman's offers several different design options so you can create the look and feel that's right for you.
You'll be able to choose from a number of various colors, shapes and patterns.
Low Maintenance
Interlocking patios are easy to keep clean, and require zero-maintenance.
Joints between stones are filled with polymeric sand, ensuring they remain closed and free of weeds.You will never have to get down on your knees to pull out dandelions and thistles. 
Durable and Long Lasting
Unlike concrete, interlocking patios never crack.
And because they move as the ground expands and contracts, they hold up remarkably well through the freezes and thaws of the changing seasons.
Contact Us Today For a FREE Quote
Want to learn more about our patio landscaping services? Contact us today to receive a quote. We are available to address any questions or concerns you might have.
Or view our inspiration gallery to view recent backyard landscaping projects.