Easy to Maintain
You won't need to spend a lot of time and energy cleaning or weeding your driveway. Because the joints between pavers stay firmly closed with polymeric sand, weeds don't survive.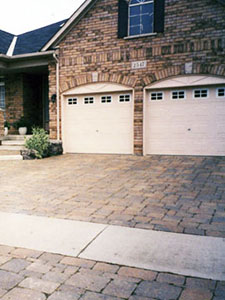 Get Instant Curb Appeal with an Interlocking Driveway
Want to wow the neighbors as they walk by your home?
A new interlocking driveway will give your home an estate-like look, with little maintenance requirements.
Just sit back and enjoy your newfound curb appeal.
From Ordinary to Extraordinary in Just a Matter of Days
Your driveway takes up a lot of space on your front yard.
Don't underestimate the curb appeal a new elegant pathway will bring.
Instead of coming home to simple black asphalt, you'll drive into a beautifully tiled driveway each day.
Money Well Invested
Durable and long lasting, our interlocking driveways won't cost you a lot of money to maintain.
Plus a newly refurbished driveway adds incredible value to your home. If selling is in your future, you'll make a sizeable profit off your renovations.
Enduring Craftsmanship
With an interlocking driveway you won't see the same cracking that you do with asphalt.
Since this is an area that withstands heavy use, our team adds substantial base material. This gives you a surface that eliminates any settling of stone that could be expected due to the weight of vehicles.
Call Us Today to Request a Quote
Want to learn more about our driveway landscaping services? Contact us today and request a quote.
Or view our inspiration gallery to see the beauty of our front yard landscaping.