Our Landscape Design Process Includes YOU.
We aim to find the unique balance of offering our expertise while listening to your desires and concerns. We come up with landscaping ideas that reflect your vision but are backed by the knowledge and experience of experts in the field of landscaping.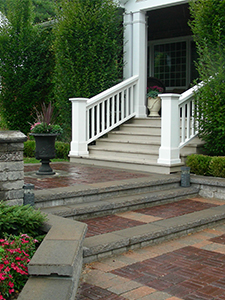 Dutchman's Landscape Design Process: Working With You to Create the Garden of Your Dreams
Your outdoor space is personal. You want a garden that is easy to maintain, while reflecting your personal style. What you want is a landscaper to offer sound advice while still listening to your concerns.
At Dutchman's Landscaping, we include you in our landscape design process. Your desires and taste are instrumental in creating you own personal outdoor oasis.
Your outdoor space should work for your family, your lifestyle, and your preferences.
What to Expect…
Because we are out landscaping during the day, your initial call to Dutchman's will most likely be taken by voice mail. We'll promptly return your call in the evening.
After our first contact we'll schedule a site meeting to kick off the process. We need to see your outdoor space and conditions firsthand so we can give you the most accurate evaluation possible.
Interested in low maintenance gardening? Our landscape architects can recommend the best low maintenance trees and shrubs.
Contact Us Today For a FREE Site Meeting
Interested in discussing your landscape ideas with our architects? Contact us today and schedule a site meeting. We are available to address any questions or concerns you might have.
Or view our inspirational gallery to see how we can transform even the most difficult backyards into outdoor sanctuaries.