From Concept to Reality in Just a Few Days
Because we focus on just one project at a time, our crew completes your job faster.
And our landscape designers remain attentive to each individual project. We don't take long lunches and we don't waste your time.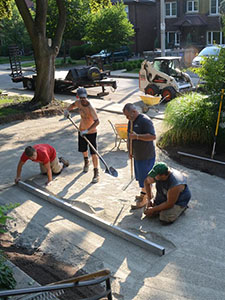 Dutchman's Landscape Construction: Quality Work in Less Time
Have you put off landscape construction of your outdoor space, afraid of the mess and hassle involved?
Or maybe you just don't feel like waiting months and months to see your project completed?
With Dutchman's Landscaping, we finish your landscape construction job in less time, without all the debris and clutter you'll encounter with other landscaping companies.
A Cleaner Yard Throughout Landscape Construction
Your driveway will not have a disposal bin blocking it during your project. This is because we never rely on a second party to haul away debris from the site- we have the equipment to do this ourselves.
And at the end of each day, we clean up the site thoroughly so you come home to a less chaotic space. You'll hardly know we were there!
Clients Attest That Our Work is Like a Breathe of Fresh Air
Not only do our customers come away satisfied with our landscaping work, they also comment on our high standards of service.
We've been told that our work ethic is "like a breath of fresh air".
Visit our Testimonial Page to read more rave reviews from our customers. Or go to our Inspiration Gallery to see how we transform even the most barren space into an outdoor sanctuary.
Request a Quote Today
Interested in how our landscape designers can transform your yard into a garden oasis?
Contact us today to request a quote. We are available to address any questions or concerns you might have. Or visit our Landscaping Service page to learn more about the services we provide.