Each Project is As Unique As Our Customers
And because each customer and each property is special, we tackle every project differently. Interested in our approach? Go to our Landscape Design Process Page to discover how we undertake each project.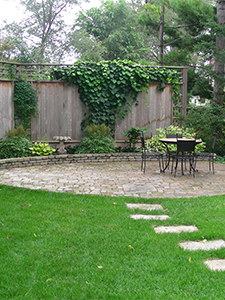 Create the Perfect Outdoor Oasis with Dutchman's Landscape Design Ideas
Dutchman's Landscaping Crew Can Work With Any Outdoor Space and Transform It Into the Garden of Your Dreams
Do you have a dated, or tired looking outdoor space?
Have you hesitated to call a landscaper because you're afraid of the disruption and high expense?
At Dutchman's Landscaping, our crew offers landscape design ideas to suit every need. We work with your space to come up with the best options for you.
For homeowners with busy schedules, our Low Maintenance Landscaping might be the perfect solution for your needs.
High Quality Landscaping Projects Completed In Less Time
Because we only take one job at a time, our customers work with landscapers dedicated solely to their project. You can be assured our crew remains completely focused on your back, side or front yard to create your ideal outdoor space.
And because our crew only works one job at a time, they pay attention to every detail. Nothing falls between the cracks.
We complete your project faster because our landscapers aren't spread thin, working multiple jobs simultaneously. Visit our Landscape Construction Page to learn more about how our crew works.
Success Means Happy Customers
At Dutchman's Landscaping, we pride ourselves on a long history of customer satisfaction. Visit our Testimonials page to see how we have helped our clients create the outdoor sanctuary of their dreams.
And we can transform almost any land into a lush garden. As one customer once said:
"…you turned what was a barren, uneven moonscape into our heaven on earth"
Contact Us Today For a FREE Site Meeting
Interested in learning more about Dutchman's landscape design ideas? Contact us today and schedule a site meeting. We are available to address any questions or concerns you might have.
Or view our Inspiration Gallery to see for yourself the quality of our work.