Green spaces are good for the body and the soul, and an increasing number of homeowners are investing in landscaping services or building comforting backyard retreats themselves. Sitting outside with the rustle of leaves, the babbling of a small water feature and the chatter of birds and other urban wildlife can do wonders for a stressed out body. So if you're looking to get inspired before embarking on your own landscaping project, visit these sites in Burlington where urban nature is at its best.
Royal Botanical Gardens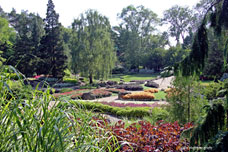 Any list of Burlington's most inspired outdoor spaces has to include the Royal Botanical Gardens. RBG is Canada's largest botanical garden and covers a sprawling 2450 acres of protected land. A visit to any of RBG's protected area might get you some face time with at risk species enjoying safety and a clean habitat. In July you'll find fragrant blooming roses and Lilliums in pink, yellow, orange, purple and more. You'll find rock gardens, water features, landscaped parks, ponds, lakes and any other natural feature you might want to incorporate on a smaller scale on your property.
Community Gardens
The City of Burlington operates three community gardens where green thumbed residents can plant whatever they want. The gardens are located at Amherst Park, Central Park and Francis Road Bikeway. Pathways between garden plots are kept clear of growth with a nice, even application of wood chips (a great example of how you could use wood chips for the same purpose in your home garden). You'll also find great examples of how to place and build a planting bed and how to store compost that will later keep your veggies (as many people choose to grow) growing vigorously. These community gardens are great places to pick up some tips from other gardeners. Plots are assigned by lottery at the beginning of each spring and cost $50 to rent for a yearly growing season.
The Central Park Labyrinth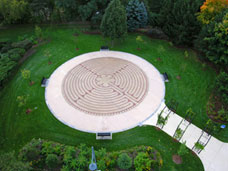 Surrounded by trees young and old in the heart of Burlington's Central Park you'll find the Labyrinth. It's not a maze. There are no walls but rather a geometric pattern laid out on the ground with a single entrance and a single exit. A labyrinth invites people to participate in walking meditation, an activity that is highly effective at reducing anxiety and eliciting the relaxation response, according to research from Harvard Medical School's Dr. Herbert Benson. Maybe a labyrinth isn't right for your property, but the surrounding gardens and peaceful air might be exactly what you're hoping to create at home.
Inspiring Waterfalls
Five waterfalls (fitting City of Burlington official waterfall criteria) encircle the City. These waterfalls are a great source for design inspiration for your own smaller water feature. See how the water cascades over rocky ledges and rolling boulders naturally. Note the nooks where plants gain a foothold and nourish themselves. Boundary Falls, Snake Falls, Lower Snake Falls, Kilbride Falls and Bronte Creek Waterfall range from 3 metres to 30 metres tall.
LaSalle Park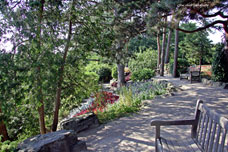 50 North Shore Boulevard has housed LaSalle Park for 99 years. In that time, the 57 acre park overlooks Lake Ontario and has beautifully maintained walking trails and established landscaping that many homeowners dream of. The shoreline is dedicated to fish and wildlife habitat restoration, where you can observe plants that thrive in Canadian waters and their relationships with insects, reptiles and fish. Perhaps the same wildlife you want to draw to your home oasis.
Burlington is a particularly beautiful city with more landscaped public spaces than most. These five are excellent sources of inspiration, but a drive around your neighbourhood will also lead to many beautifully designed home landscapes and public spaces.
Dutchman's Landscaping can help turn your inspired vision to reality. Call us today to request a quote.
Royal Botanical Gardens and other courtesy of Gillian Floyd