Many people wait until their kids grow up to complete their landscaping. We think that you shouldn't wait- your kids don't want to spend time in an unkempt backyard either!
If you are the parent of young children, adding active play space to your backyard landscape may be the smartest move you ever make. When the kids are restless and cranky or are making you feel that way, send them outside to burn off some energy in their own backyard. There is a huge range of options for home playgrounds. You can mix and match to get the exact play set you and your kids want.
The "before" photo shows part of a typical suburban Oakville backyard; lawn with some overgrown shrubs around the edge and a wood privacy fence. There is not much to keep kids busy and entertained. The "after" photo shows a new wood play structure with several activities for the younger set, including an entertaining surface for the adults- you can drink your coffee while supervising your children playing.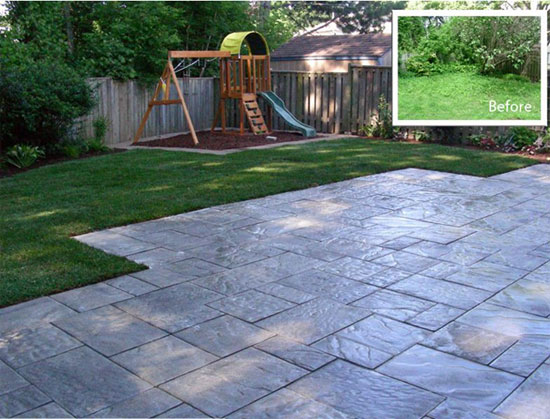 Home Playground Options
Play equipment today is designed to be flexible and adaptable. Modular units usually allow you to choose and piece together the components you want for your home playset. Swings, slides, climbing walls and ropes, houses, sandboxes, zip lines and more are all available in a variety of sizes and configurations. The size of your backyard may be the only limitation.
We will gladly assembly any set that you'd like integrated into your outdoor space.
Safety Considerations
It's important to have a soft landing surface at the bottom of slides, under swings and anywhere a child might fall. As shown in the photo, a thick layer of shredded bark mulch is often used for this purpose. Sand and interlocking rubber mats are other options.
An interlocking border that is flush with the ground was installed to keep the mulch in place, and prevent grass from growing into the play area.
When the Kids Grow Up
When the playground is no longer needed, this leveled space can easily be transitioned into a more elegant feature. Options good include a gazebo, an additional patio surface and bistro set, or it could be absorbed by the bordering planting beds for a feature garden.
Get a Consultation Today
Get a head start on your landscape planning for the spring, and contact us now for a consultation.