The Benefit of Years of Experience at Your Doorstep
With over 35 years experience behind us, we know how to reshape your outdoor living space as quickly and efficiently as possible. Many of our crew members have been with us for several years, and they have continually proven themselves through their commitment and hard work.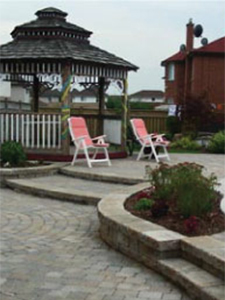 Dutchman's Landscaping Inc.: Quality Service Since 1977
For over 35 years, Dutchman's Landscaping has worked to provide the greatest quality of express service. We believe in limiting our projects to one at a time – meaning our clients receive the most focused and personalized attention, and their projects are completed quickly.
Since 1977 when the business was founded, Walter and Sandy Hasselman have made a conscious effort to keep their business small to excel above our competition in both customer service and the quality of our finished products. Every one of our jobs is personally managed by the owners.
Visit our Landscaping Design and Construction Page to learn more about our process.
Backed By National and Local Landscape Associations
Recognized by Landscape Ontario Horticultural Trades Association as well as the Canadian Nursery and Landscape Association, Dutchman's Landscaping Inc. maintains the highest standard of quality and service.
Walter Hasselman himself has been on the board of directors for the golden horseshoe chapter of Landscape Ontario for the past 15 years.
Personalized Service to Meet Your Needs
Nothing is more important than your home. Having an outdoor sanctuary to call your own will bring you peace and enjoyment for years to come.
We pride ourselves on making our customers happy with our service. Because we make the landscaping process more than tolerable, our clients walk away pleased with the whole experience.
How is that? Because our business is as good as the people who run it. As one customer once said, "Walter, there are angels here on earth & you are one of them".
Contact Us Today or Set Up a FREE Site Meeting
Curious how our landscaping services compare? Contact us today with any questions or concerns you might have. You can also visit our Landscaping Services Page to learn about our process.